WHAT ARE INVASIVE PLANTS AND WHY ARE THEY A PROBLEM?
LOCAL SOURCES FOR NATIVE PLANTS
Streamside Native Plants (Bowser)  https://www.streamsidenativeplants.com/
NALT Natural Abundance Native Plant Nursery  https://www.nalt.bc.ca/native-plant-nursery
Cultivate Garden & Gift (Parksville) Ask about native plant section https://cultivategarden.com/
Did you know you can certify your wildlife garden!
https://cwf-fcf.org/en/explore/gardening-for-wildlife/action/get-certified/#apply-now
HAPPY POLLINATOR GARDENING!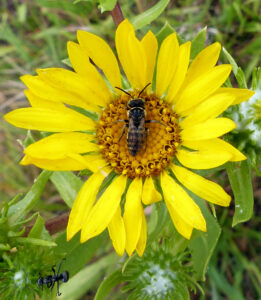 What are pollinators and why are they important?

A pollinator that helps carry pollen from the male part of the flower (stamen) to the female part (stigma) of the same or another flower. The movement of pollen must occur for the plant to become fertilized and produce fruits, seeds, and young plants.
Somewhere between 75% and 95% plants on the earth need help with pollination – they need pollinators. Pollinators provide pollination services to over 180,000 species and more than 1200 crops. Click on:  https://pollinatorpartnership.ca/en/about-pollinator
Who are the pollinators? They're more than bees!
You will be amazed at the wide variety of pollinators! For more information and to see some great images, click on:  https://www.xerces.org/pollinator-conservation/about-pollinators
How can I best support pollinators?
The causes of insect decline are much debated, but almost certainly include habitat loss, chronic exposure of pesticides, and, increasingly, climate change.
The loss of native habitat in which pollinators feed, nest and shelter has a great impact on pollinators and this is where YOU CAN HELP!
Native plants, plants indigenous to our area, are the plants with which local pollinators have evolved and which their young need to complete their life cycles.
While various nectar and pollen exotic plants can nourish adult native pollinators, they do not best serve the species. Protecting native plants and installing them at home and in the community is well worth the effort.
Whether you have a balcony or patio with space for pot of plants at home, a yard, acreage, farm, or business, installing native plants is a perfect way that you can support pollinators. There are beautiful native trees, shrubs, vines, and herbaceous plants for any space!
Photos by Dave Erickson and David Helem
A picture is worth a thousand words
Rosemary is looking for any pollinator stories or pictures you have. A lot of people have noticed a lack of bees and other pollinators this year. Please send any information to rtaylor99@shaw.ca  Thank you.